The following is an adaptation from the book "Busby: Architecture's New Edges."
In architecture, as with almost every business, innovation is the most valuable ingredient for success over time.
When designing for clients — whether it is a university facility or a workplace — it is important to nurture a culture of innovation.
This is particularly important in sustainable design, as the impacts of climate change increasingly require architects to demonstrate ingenuity in environmental problem-solving. Investing in innovation is sure to reap healthy returns on business and the planet.
Here are a few best practices for architects to encourage creativity and innovation:
1. Use the office as an innovation lab
Successful architecture firms allow people the time and physical space to chase new ideas, do research, and exchange meaningful ideas with their peers whenever and wherever the mood catches them.
Provide a thoughtfully designed, stimulating work environment for staff that encourages this behavior. Examples might include staircases with wide landings as group seating areas, standup coffee stations where people linger and talk, or a wall of white boards and writable glass.
2. Engage the community
It used to be that a developer would buy property, assemble a plan for how to use it, hire an architect who would obtain the approval from the city, and then the project would get built.
Today, it is essential to consult the entire public — not just city planning departments, but also end-users, occupants, and community groups. Engaging all parties in the process of how a building takes shape encourages idea sharing.
3. Collaborate with an engineer
On their own, designers can come up with virtually any idea for new and different structures. But without well engineered performance systems, even the most spectacular visual expressions are just ideas.
Together, architects and engineers can make ideas a reality by identifying new approaches, material efficiencies, cost savings, and operational systems that allow buildings to perform as well as or better than imagined.
4. Embrace technology
With the advent of powerful digital modeling tools, architects can now experiment more dramatically with form.
From structures that echo the shape of a native orchid to even more complex shapes developed with the aid of 3D design software, architects should leverage a growing suite of technological tools to meet the needs of both the client and the environment.
5. Work with wood
Used to build structures since the beginning of humankind, wood was largely replaced in the mid-19th century by steel and concrete, but it is in fact a far more sustainable design choice.
Steel and concrete both have significantly higher carbon footprints from manufacture and transportation. When wood is harvested responsibly, fewer logs fall to the forest floor and decompose, resulting in less methane, a potent greenhouse gas. Encourage design teams to find new and appealing ways to incorporate wood elements.
6. Experiment with innovation and new materials
Don't hesitate to test out alternative material choices. From fiberglass and acrylic to curved glass and salvaged mechanical equipment, the use of nontraditional materials can result in unique, practical, and eye-catching designs that impress clients while minimizing environmental impact.
Innovation is at the heart of all successful businesses. Invest time and intellect in innovation around how you practice, and what you design.
7. Explore prefabrication and modular design
Working with modular and prefabricated designs allows architects to simultaneously achieve beauty, sustainability, and cost effectiveness.
By investing in higher quality repetitive elements, designers can accomplish more, aesthetically speaking, while minimizing environmental impacts and keeping overall project costs lower.
8. Seize every opportunity to learn
Internal research and education initiatives empower architects to develop innovative ideas and approaches that can be applied to all projects. Consider investing in and engaging in research projects whose results can be shared with staff, colleagues, and peers.
As time goes on, new technologies, materials, processes, and environmental data will continue to fuel the need for architectural innovation. It is up to architecture firms to prioritize innovation at every level. Doing so will ensure better buildings and, ultimately, better business.
Source:  Green Biz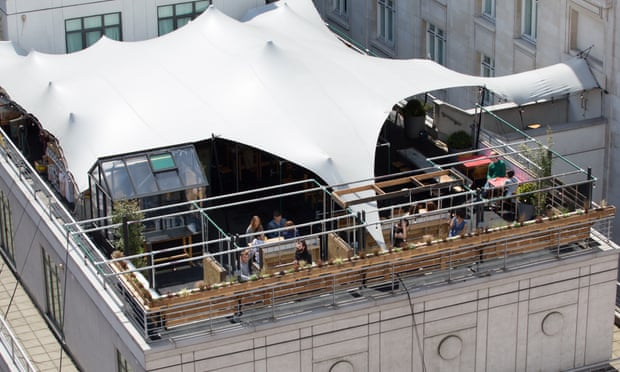 With so many new dining and socialising options emerging, especially in major cities, the hotel industry has got its work cut out trying to lure external customers into its restaurants and bars.
Coupled with the need to maximise the profitability of its communal areas, this is what sparked a bold idea at Marriott International: what if entrepreneurs – experimental foodies and bar visionaries – could be enticed to transform unused corners of its hotels into something edgy and different that might attract a new crowd?
The resulting Canvas Project – a food and beverage talent incubator – has now entered its second year, with the launch of rooftop bar and restaurant Notch at London's Marriott Park Lane hotel.
There you can try Japanese street food and homemade cocktails in cans, which take inspiration from the millennial hotspots of Brooklyn and Berlin. Designed as a sky-high industrial playground for adults, Notch mixes reclaimed school tables, scaffolding and swings with a vibrant bar and open kitchen, Fudo Shack.
Notch has taken the baton from the site's previous pop-up, Roofnic, which turned over a profitable £500,000 during its three-month summer run last year. The same man, Ashley Dawes, is responsible for both. Originally the general manager of Marriott Park Lane's main restaurant and bar, his execution of Roofnic was so successful that he left to set up a restaurant and bar consultancy, DenLDN.
The idea for Canvas Project came out of a company brainstorming event, where managers were encouraged to reconsider Marriott's global restaurant and bar strategy. "Rather than take the traditional 'We know best' approach, we wanted to see what would happen if we started from the ground up, the idea being that we would learn from the entrepreneurs," explains Ed Viita, director of food and beverage at Marriott Europe.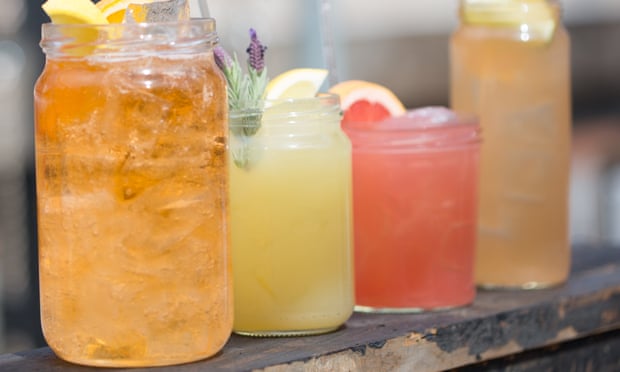 Moving away from the standard hotel restaurant and bar experience would enable Marriott to appeal to a new demographic, attracting locals as well as guests staying in the hotel. "One of the most common questions to our concierges is where the locals eat," Viita notes. "Our aim was to become that place."
Following the 2014 brainstorm, teams were sent away to develop four "concept labs" for launch the following year. Viita took his own inspiration from Europe's popular pop-ups and street food ventures.
"The model is completely open to interpretation; there are no restrictions," Viita says. Once a location has been identified, internal staff and local entrepreneurs are invited to pitch their ideas. The creator of each winning concept is offered a minimal budget – typically£35,000 per project – to build and develop the restaurant or bar.
Park Lane's Roofnic is held up as the big success story. Taking inspiration from British music festivals such as Latitude and Bestival, Dawes took an unused roof terrace and transformed it into a rustic garden, with simple wooden benches, folding garden furniture and affordable prices. The summer bar often had queues down the street and was selling 1,000 cocktails a day.
Then came St Pancras MI+ME, an urban cheese and charcuterie bar at London's St Pancras Renaissance Hotel, targeted at travellers. At Marriott's Courtyard Berlin hotel, the #Hashtag Coffee Shop serves comfort food with a local twist, such as baked potatoes served with curry wurst and doner kebab.
In Budapest, Marriott has partnered with a local entrepreneur, Imre Toth, to create the Marionett Craft Beer House. Toth launched his concept within two months of being selected. If a project is working well, Marriott allows the outlet to continue to operate, and the Marionett Craft Beer House has now been running for 10 months.
So how does the model work for both parties? All intellectual property related to the concept such as name, logo and trademarks remain the property of the entrepreneur, Viita notes. The percentage of the profits the entrepreneur receives is negotiated on an individual basis. In February, Toth renegotiated his contract and started paying rent and now receives a larger share of the profits.
If the entrepreneur is operating the pop-up, there is an expectation that they will devote their energy to the success of the project. "However, we also partner with entrepreneurs as consultants," Viita notes, pointing to the new relationship with Dawes, who branched out on his own but set up Notch.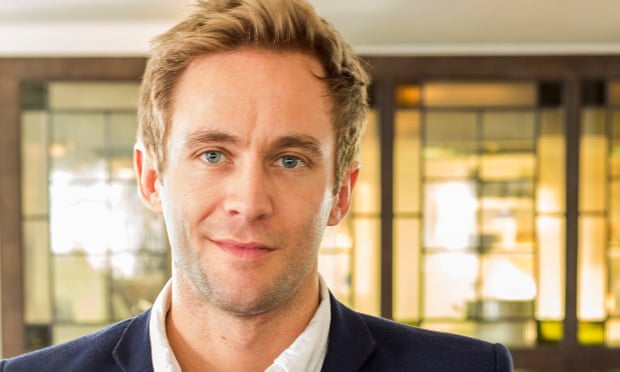 For Dawes, working externally has enabled him to get his name out in the wider market and be paid for his ideas. He describes the Canvas Project as the opportunity he had been waiting for. "The idea came through on a company email when I was working at Marriott. It looked great, and the guys behind it were very enthusiastic," he says.
Roofnic offered a fun time at non-Mayfair prices, setting it apart from Windows, the premium bar and restaurant at the top of the Park Lane Hilton. "Before we took over the rooftop space, there was nothing there – it was concrete, there was no electricity. We opened in eight weeks, and take-up was epic from day one."
He left once the season finished, taking a well-earned holiday. With his new consultancy business up and running, he started on Notch in March, opening it on 1 May. Within two months it had a reach of 875,000 people across social media.
Running his own ship has improved the rewards. As an internal employee, Dawes had only really received a 'token' for his hard work, he says. "That side of things didn't really work out," he says, of whether he received a big bonus.
"But it was an opportunity to show what I could do. I'm doing some work for Marriott in LA at the moment – the company will always be a big partner. They've led the way: they came up with a great idea and have seen it through, in a market where it can be hard to make change."
The figures stand up to scrutiny. Worldwide, Marriott launched 10 of 17 proposed Canvas projects last year, investing just over $300,000 (£230,000) and achieving top-line revenues of nearly $2m (£1.5m). Low start-up costs and high turnaround mean revenues are delivered quickly and profitably. This year, to date, Marriott launched 12 additional projects globally – with more in the pipeline. In Europe, Canvas has delivered the new audience Marriott was looking for: 75% of customers have been millennials, exceeding the target. Over 60% are locals.
"In culinary hotspots like London, the appetite for new and fresh ideas is strong and pop-ups are a great solution," says Peter Ducker, chief executive at the Institute of Hospitality. "This is a brave move from Marriott: they are at the front of the curve and should be applauded.
"One major drawback of pop-up facilities though is that the workload can be equal to opening a permanent restaurant. If you're including a new kitchen from scratch, you still need all the same regulatory compliance. But working through a company as well-resourced as Marriott should make life easier."
Sign up to become a member of the Guardian Small Business Network here for more advice, insight and best practice direct to your inbox.
Source: The Guardian
Construction, traffic noise, and airplanes flying overhead: Noise pollution the world over lessens quality of life and brings ugliness to what would otherwise be beautiful urban landscapes. To add to this cacophony of sounds are street performers—musicians, actors, artists—all trying to work their trade in the midst of the hustle and bustle of cities the world over.
To fix this problem, one Israeli has come up with an ingenious solution. Called "mini-amphitheatres," they are aesthetically-pleasing, sidewalk-size-appropriate amphitheatres, which can be used not only to block out unpleasant street noises, but also to provide a venue for buskers to perform, increasing the cultural landscape of a city.
Aviv Even, a student at the Shenkar School of Engineering and Design at Tel Aviv University, designed the mini-amphitheatre. As a Tel Aviv native, she has been surrounded by the clamor of sounds which accompany a big city, and wanted to make a positive impact in both reducing noise pollution and improving the quality of life for the city's residents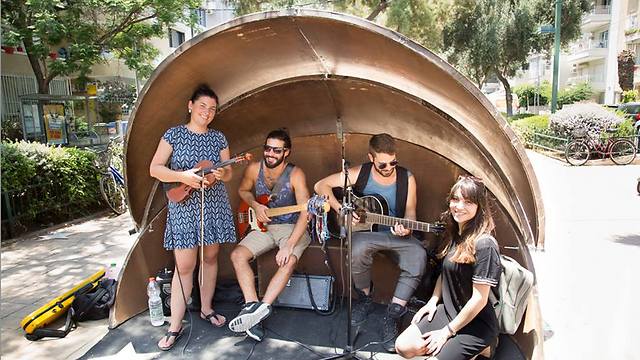 "I sought to determine which sounds were more pleasant for people and which were more grating—what caused people to want to be in an area, and what caused them to want to leave. Something that I discovered is that noise pollution is just as effective at deterring people from being in an area as is physical pollution," she said.
Standing on the corner of Ben Gurion Boulevard and Dizengoff Street in Tel Aviv, she used a decibel reader to determine whence the loudest sounds on the street were coming and what was causing them. She mapped these areas out and used her maps to determine the best way to mitigate these sounds.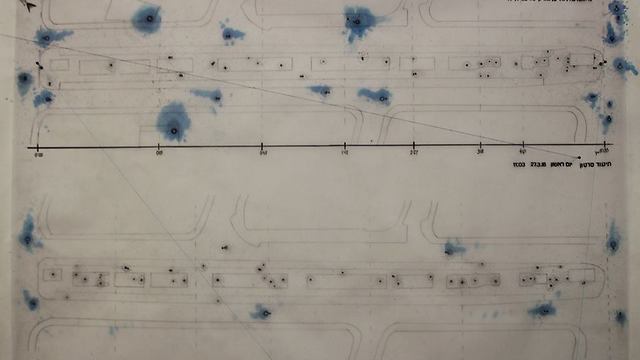 That's how she came up with the idea for the mini-amphitheatre. "I wanted to find a way to reduce noise pollution, while at the same time adding pleasant sounds to the surrounding area."
The mini-amphitheatre is able to direct the sounds of the people who are performing in it—whether they be buskers performing musical instruments or street actors giving a performance—to an audience without disturbing the other people living or walking in the surrounding area.
"Sound naturally goes up, so by performing inside of these mini-amphitheaters, the sound is able to be directed towards an audience more fully. This also eliminates the need for speakers, as the sound is naturally amplified."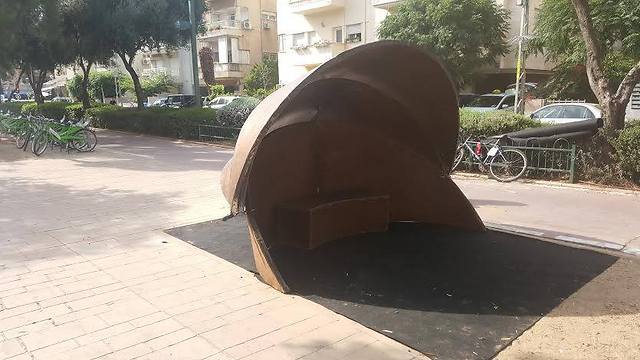 To design the structure, Even spoke to street performers to determine their needs, thereby creating the ideal size and depth of the shell so that it would be not only comfortable for the buskers to perform in, but also disrupt the surrounding foot traffic as little as possible.
Even has already sold one of her portable mini-amphitheatres, but she hopes that in the near future the city of Tel Aviv and other cities around the world will use her design to not only beautify their cities visually, but also provide a way to mitigate noise pollution and increase positive vibrations.
Source: Ynetnews
CHICAGO — What makes a product truly innovative? Depends whom you ask. And, as it turns out, the industry and the consumer have differing views.
The topic was discussed by industry analysts during the Institute of Food Technologists' annual meeting and food exposition, held July 16-19 in Chicago.
Researchers at Mintel, Chicago, use proprietary survey methodology to collect consumer input on every reported food and beverage product launched in the United States each year. The analysts identified five innovative products debuting this year and measured consumer reactions and purchase intent of those products.
One product was Labni Mediterranean Kefir Yogurt Snack from Los Angeles-based Kronfli Bros. Varieties include mint and garlic, lavender and honey, and sundried tomato and basil. Mintel analysts predicted the product would bring a unique twist to the crowded yogurt category; however, consumer feedback indicated reluctance to experiment with unusual flavors or an unfamiliar product concept, especially if the product is relatively pricey.
Only 24% of consumers surveyed by Mintel said they would buy Labni, compared to 41% of consumers who said they would buy any spoonable yogurt. Labni may eventually catch on; consumers just may be slow to adopt it, said Lynn Dornblaser, director of innovation and insight at Mintel.
"Greek yogurt took three or four years or more to really hit with consumers," she said. "Sometimes with something a little far out there, be prepared to nurture it along a little bit, and you can still have a big success."
Another recently launched product Mintel identified as innovative was 1893 From the Makers of Pepsi-Cola Ginger Cola, which was inspired by the brand's original recipe.
"It ties into that sense of provenance and authenticity," Ms. Dornblaser said. "(But) what we see is consumers don't get it. They understand the product is unique, but uniqueness is not a strong driver of purchase…
"When we dig a little deeper, we see there's some resistance to the category of carbonated soft drinks and some resistance to sugar. The other problem is the flavor; ginger is polarizing."
She added, "It hits on a lot of trends we think are important, but I think it's important to keep in mind consumers don't choose what they don't understand, especially when it's in a category that has its own set of challenges."
One of Mintel's picks that rated favorably among consumers was Kraft salad dressing in two-serving pouches from the Kraft Heinz Co. Varieties include zesty lime, golden Italian, classic ranch, lite balsamic and chipotle mango.
"This salad dressing outperforms the category by a significant margin," Ms. Dornblaser said.
Forty-six per cent of consumers said they would buy the product, compared with 38% of consumers who said they would buy any salad dressing. Here's why it's a hit: The brand is recognizable, the flavor varieties are familiar, and 60% of consumers rated the product format as convenient, twice that of all dressings.
"This is a case of the brand and flavor and purpose and communication all coming together and communicating very well to consumers what this product is all about and hit the needs consumers have," Ms. Dornblaser said.
So, what products do consumers consider innovative and exciting? Top picks introduced this year include Sargento Tomato & Basil Jack sliced cheese, Ghirardelli Dark Chocolate Premium Brownie Mix, and Nestle Dreyer's Slow Churned California Caramel Almond Crunch Light ice cream. Consumers' top choices were almost all indulgent treats from established brand names, and most were repackages, restages or reformulations.
Based on these findings, Mintel identified a couple more recent launches featuring these attributes. Ben & Jerry's new line of non-dairy frozen desserts marries the trend of dairy alternatives with the strength of the brand name, combining indulgence and perceived healthfulness associated with vegan and non-dairy products. Consumer purchase intent of the products was higher than that of other frozen desserts, including dairy-based ice creams, Ms. Dornblaser said.
Another new product expected to resonate with consumers is Oreo Thins cookies, which Ms. Dornblaser described as the "perfect combination of new and familiar." Oreo Thins, which is a crispier version of the popular sandwich cookie, was rated by consumers as the most exciting cookie launch since January, and the purchase intent of the product was almost twice that of all cookies, Mintel research found. Additionally, because Oreo Thins were found to be more likely an additional category purchase than other cookies demonstrates the potential to grow the entire cookie market, Ms. Dornblaser noted.
"This illustrates the power in innovation being something familiar, plus something that's just a little bit different," she said. "You can think about innovation in two ways — close-in innovation and longer-term innovation. Close-in innovation is all about that flavor, new package, shift in functionality. Those scored the highest among consumers. It's something familiar with a twist, like Oreo Thins.
"But there is still a lot of opportunity for far-out, longer-term innovation. Something to keep in mind is not all trends are for all consumers… It's important to know whom you're aiming your revolutionary new product to. Success for something that's very innovative is quite often a slow build."
Source: http://www.foodbusinessnews.net
THE UK ISN'T WINNING any awards this week for its collaboration skills, but the country deserves some credit for "Months," one of five installations in the British Pavilion's "Home Economics" exhibition at this year's Venice Architecture Biennale. Here, if not in the European Union, Britain presents a new model for shared living spaces.
"Months" proposes a monthly rent that includes not only the use of real estate, but all domestic needs—things like cleaning, cooking, laundry, maintenance, and wifi. "We're interested in making communal living easy and affordable,"says Pier Vittorio Aureli, a partner at Dogma, the Brussels architecture firm behind the installation. (The words "A home without housework" appear on the frame of the doorway leading to the installation.) At the center of the room is a private, blue-paneled, two-story "core." It's designed for sleeping, washing, and occasional cooking. The surrounding double-height zones—which make up the majority of the room — become shared spaces for working and socializing. The idea is that residents share services as well as spaces. The installation takes up one of five inter-connected rooms inside the British Pavilion's austere Venetian palazzo.
Aureli says the plan was inspired by the boarding house, a once prevalent model in the U.S. that was replaced after World War II with the rise of suburban living. He adds that boarding houses like New York's Chelsea Hotel once did exactly that, but took on a stigma as being unfit for family living.

Properties modeled after "Months" could rise on unused lots away from city centers, near mass transit. Aureli and his team envision cities using tax incentives to encourage developers to create housing in these zones, rather than using them for commercial purposes.
Like "Months," the other four installations in the "Home Economics" exhibition are named for, and designed around, increments of time. "Hours," for instance, envisions what a shared home environment would look like, if it one lived there for no more than a few hours at a time. It is filled with simple objects whose forms (modular daybeds) and functions (shared wardrobes) are transitory in nature. The "Days" exhibit explores the potential of portability, proposing strange new types of personal spaces—two inflatable, wifi-connected spheres that can you can climb inside and roll around to new environments. It suggests that you really can live anywhere, as long as you can get online. "Years," the least architectural installation of the bunch, is a shell construction that imagines a home built for profiteering, not living; it contains only those things necessary to qualify for a mortgage: a roof, running water, electricity, a lavatory, and a basin—and spartan examples of each, at that.
"We were surprised that that this was the first time housing had been explored through the lens of time," notes Jack Self, one of the three curators of the British Pavilion. "People once worked in one place and lived in one home for their whole lives. When you're talking about a highly mobile, often precariously-employed populace who are constantly on the move, those models no longer work."
The masterminds behind "Decades," London architecture firm Hesselbrand, oversaw construction and design of each installation. "Our goal was to make immersive environments to explain an idea," says Hesselbrand cofounder Magnus Casselbrant, pointing out how space—rather than lots of complex text—can speak for itself.
And while the collaborative spaces all evoke our omnipresent sharing economy in their own way, don't call them derivative of Airbnb. Aureli says he prefers to think of "Months" as an idealistic experiment in communal living, not a get-rich scheme. "Sharing economy is a buzzword that becomes a way to make more money out of everything," he notes. But after the Brexit fallout, Brits might consider all the money-making options they can get.
IT Suppliers Key to Business Innovation
The recently released report by the Department for Business and Innovation & Skills (BIS) suggests that businesses in the UK are recognizing the need for innovation, and are increasingly turning to technology for inspiration.
Commenting on the report's findings, managed services provider (MSP) company Annodata says IT service providers are "waking up to the critical role IT service providers have to play in supporting the innovation cycle."
"These figures are highly encouraging and point to a shift away from the transactional, passive IT service provider relationships of old in favour of new, more collaborative partnerships," says Annodata's CEO, Rod Tonna-Barthet.
"The role of IT in supporting innovation is critical, but many businesses lack the vantage point, time and experience to be able to devise and maintain an IT strategy that will deliver the type of innovation required. IT service providers, in theory, have the skills and experience needed to support fundamental change, but that challenge is that many fail to properly get to grips with their clients' business objectives."
He added that, even though they are in the tech industry, the services provided are more about helping business change and less about tech itself. Approaching each client with the knowledge of their 'pain points', helps them make strategic recommendations.
Such recommendations can help businesses innovate, and ultimately, "add value to the bottom line".
Source: http://www.itproportal.com/2016/03/29/it-suppliers-key-to-business-innovation/
Tesla Model 3: This Is What A 'Game Changer' Looks Like
Tesla started taking orders for the Model 3 last week, and the results were remarkable. In 24 hours the company took $1,000 deposits for 198,000 vehicles. By end of Saturday the $1,000 deposits topped 276,000 units; for a car not expected to really be available until 2017. Compare that with the top-selling autos in the U.S. in 2015:
Remarkably, the Model 3 would rank as the sixth best-selling vehicle all of last year! And with just a few more orders, it will likely make the top five - or possibly top three! And those are orders placed in just one week, versus an entire year of sales for the other models. And every buyer is putting up a $1,000 deposit, something none of the buyers of top 10 cars did as they purchased product widely available in inventory. [Author's update 7 April - orders hit 325,000 in less than one week, which would make the Model 3 the second best selling car in the entire USA for the entire year 2015]
Although this has surprised a large number of people, the signs were all pointing to something extraordinary happening. The Tesla Model S sold 50,000 vehicles in 2015 at an average price of $70,000 to $80,000. That is the same number of the Mercedes E-Class autos, which are priced much lower in the $50,000 range. And if you compare to the top line Mercedes S-Class, which is only slightly more expensive at an average $90,0000, the Model S sold over 2 times the 22,000 units Mercedes sold. And while other manufacturers are happy with single digit percentage volume growth, in Q4 Tesla shipments were 75% greater in 2015 than 2014.
Source: http://www.forbes.com/sites/adamhartung/2016/04/05/tesla-model-3-this-is-what-a-game-changer-looks-like/#5ec2b501e674
4 Key Ways to Create a Culture of Innovation
Innovation. We all know its importance and the vast majority of organisations include it as one of their core values but are we creating cultures and environments that foster its development? Or will it just remain a buzzword that sounds good and we don't deliver on it?
Nagib Kassis, GM, IT strategy and transformation at Allianz Insurance, says the role of innovation is to drive growth. WA Police's former CIO, Mike Schuman, says the purpose of innovation is to disrupt and overcome legacy systems.
When looking at innovation we are interested in new methods, solutions or ways of achieving results that matter to the overall organisational objective, not just that it is a new technology for technology's sake.
Let's take a look at some of the key ingredients necessary to support and create a culture of innovation.
1. Engage in light touch governance
An element of freedom is required to innovate; it will not thrive in an environment that is entrenched in too much process.
Schuman believes the purpose of governance is to deliver a quality outcome not a checklist. While at WA Police, Schuman broke down the formal process and lines of communication when it came to innovation.
Communication and direct engagement are critical in facilitating innovation and Schuman made sure he was accessible to people who had ideas that would drive better business outcomes for the organisation.
One of the ways this was accomplished was through utilising an organisation wide portal. Discussion is fostered by the engagement of senior execs on the portal and culminating with the Minister's award for innovation in policing. This year's award was for an idea to enable colour-coded prioritisation of incidents from the suggestion of a staff sergeant.
Innovation can be simple ideas and they can come from anywhere. They come from across the organisation as well as from outside of it. The portal is now used by more than 60 per cent of staff across the department. This high level of participation provides a critical mass of innovative thinking.
2. Be an internal entrepreneur
Allianz Insurance's Kassis believes innovation can't be put into a process – it must be encouraged as a way of thinking and built into the DNA of an organisation.
Kassis says organisations should think like start-ups and bring elements of that entrepreneurial thinking into the corporate world.
"Keep abreast of what is being newly developed, not just in your industry but others, and look to see how they can be applied in your organisation," he says.
Nagib practices this regularly as an "entrepreneur in residence" in the Fintech startup domain for a venture capitalist.
To encourage a start-up mentality in a corporate and to demonstrate how corporate and overly processed thinking can sometimes inhibit innovation, Kassis recently invited three start-ups to present to a mix of IT and Business employees at Allianz.
Thinking from their existing structures, policies, and procedures, the group identified a list of reasons why these three start-ups would not work.
Noticing this, Kassis paused the meeting and pointed out that all three businesses were already running and succeeding in their respective markets.
It was only inside the restrictions of an existing, automatic, and habitual way of thinking that they could not work, hence the need to continuously challenge the "thinking" culture.
Sometimes we get so trapped inside the taste and feel of our existing box that we forget it's up to us to redesign and build new more innovative boxes.
3. Unleash discretionary effort
Duncan Holt, CIO at insurer, ReturnToWorkSA, says the key to innovation is tapping into the discretionary time of your team.
He says the time necessary to complete the mandatory or formal requirements of their role should only take about 50 per cent of their time. The time they have available above this is their discretionary time.
"This is the time where they should be given the freedom to innovate. Give them the permission to innovate without being concerned with how they do it, but also let them know results are expected from it," he said.
When this innovation leads to your team doing their job better and more efficiently it creates the beginning of a cycle of more and more innovation, he says.
"Once they do their job more efficiently, the formal requirements take less and less time allowing for more and more discretionary time to innovate.
Having your team apply themselves during this discretionary time as opposed to them putting in time is a key to unleashing the innovative potential of your organisation," he says.
4. Ask Why
Be aware of the mindset or behaviour patterns of being either a 'historian' or a 'rule master' in your environment.
Be aware of conversations that sound anything like, 'that's the way we do things', 'we've always done it that way', 'we have to follow the procedure', or 'don't fix what's not broken.'
You need to keep asking 'why?' and not get comfortable inside the existing box that your organisation has created.
Source: http://www.cio.com.au/article/598144/4-key-ways-create-culture-innovation/
Recently, Lauren Jarmusz - a Doctor of Physical Therapy Student at Northeastern University graduating in May 2016 - and I interviewed Zoher Kapasi, PT, PhD, MBA. Dr. Kapasi is the Program Director and Associate Professor in the Division of Physical Therapy of the Department of Rehabilitation Medicine at Emory University School of Medicine. He's an innovator, an intellectual with a business mind, and an educator who leads one of the USA's top ten Physical Therapy Education Programs. Last year, I suffered from a serious knee injury and was seeking to understand how to innovate the physical therapy field insomuch that musculoskeletal injuries were prevented. Here's our interview:
Marquis Cabrera: What do you believe are some persistent problems impeding innovation in the physical therapy field?
Dr. Zoher Kapasi: We need a mindset shift. Mindset is critical to innovation in any field. For far too long, Physical Therapists, were given referrals from physicians and pretty much told what to do, but direct access is allowing us to be more innovative.
Also, our training has progressed. In the past, PTs needed a bachelors; then a masters; and now doctoral degrees. There is a new generation of physical therapists that are coming out who realize, they can be independent practitioners because they have a unique body of knowledge to treat patients. Just like a surgeon approaches their field from a surgical perspective, or a pharmacist approaches health care from a pharmacological perspective, physical therapists approach their field from a movement science perspective using manual therapy and other therapeutic approaches. However, just as not every patient is going to get surgery, all patients may not benefit from physical therapy and physical therapists are now trained to refer these patients to appropriate health care providers based on their needs.
Physical Therapy is in an exciting place as it is truly a value option in health care. For certain conditions, PT is more effective than surgery and other interventions that cost more money. Patients need the greatest quality care at the lowest cost, the value option. Also, PT is a non-pharmacological intervention and thus appeals to patients who are wary of drug side-effects. Clearly, PT is an effective low cost option to treating musculoskeletal injuries, which is why more people are gravitating to the physical therapy field. It's a perfect storm and everything is aligning in favor of physical therapy.
Lauren Jarmusz, sDPT: What initiatives is Emory DPT Program working on to innovate the physical therapy profession?
We have several. We started innovating physical therapy in the education sphere through the development of our dual degree programs. For example, we have a DPT/MBA and DPT/MPH, and we have recently developed a DPT/PhD program with the our local engineering school, Georgia Institute of Technology. The latter program offers a pathway for collaboration between engineers who don't have clinical background, who look forward to collaborating with clinicians. In addition, we started offering interdisciplinary electives: Interfacing engineering technology and rehabilitation, which brings together engineering, neuroscience, and DPT students from different backgrounds to look at patient problems and work together to solve these problems from a number of perspectives.
Beyond just mixing engineering students and DPT students, we are also offering a business elective course: Business Management for the Physical Therapist Entrepreneur is an advanced business course that uses Harvard Business School case studies -- Toyota, Starbucks, Callaway Golf Company, and Apple -- to teach physical therapy students how to improve efficiencies within health care. Essentially, we are teaching physical therapists to become innovative by asking: What can we borrow from other industries to innovate the physical therapy field? For example, can DPTs apply Starbucks' customer service and marketing expertise to the physical therapy field? Or, apply Toyota's operations expertise to physical therapy? Or, learn how to develop an emotional brand experience, like Apple. Students really love it and it is totally out of the box.
Marquis Cabrera: Can you tell me about the DPT/MBA program? And, what is its role in advancing the Physical Therapy field?
Dr. Zoher Kapasi: First, we must recognize health care is a business and there's nothing wrong with that-it helps us deliver services. There's no mission without a margin. The Red Cross has to bring in more money than it spends to provide services to needy people around the world. And - we need those business skills. We teach great skills in manual therapy etc, but if we don't show them how to market themselves, we're not doing a great job as educators. And, ultimately, we're doing a great disservice to our consumers. I tell my students: If you went to a town and saw everyone limping and walking around crooked, wouldn't you want to tell everyone you can help them? What's the shame about that? Everyone wants to help people, but if people don't know you can help, you won't be able to help them. In healthcare, clinicians feel that marketing is beneath us, but it's time to show why we're the best kept secret in health care and no longer keep that as a secret.
Lauren Jarmusz, sDPT: As a student, I had to self teach myself business. Thankfully, Marquis and my dad, who led a successful exit of our family business, are both adept at business. How can more educational institutions empower doctors of physical therapy to become innovators? Innovate curricula? Create more joint programs? Create business simulations? Embed PT business challenges?
Dr. Zoher Kapasi: We want educators to replicate some of what we have done at Emory at their own institutions. This is why we are now publishing our innovations in our curricula and how to develop those through publications in our Journal of Physical Therapy Education. We recently published a method/model paper on how we developed the dual degree programs at Emory. We are now working to publish our experience in setting up innovative courses through papers such as : Interfacing engineering technology and rehabilitation: an interdisciplinary course for educating students in physical therapy, biomedical sciences, and engineering at Emory University; and Looking Outside Health Care to Teach Innovation in Physical Therapy Business Practice: Use of Harvard Business School Cases at Emory University.
We want to get the word out. Sometimes people are worried about sharing ideas. Creative ideas are all around, but it all comes down to execution. I am willing to share ideas and show people how to implement because this will attract more people to the profession.
Lauren Jarmusz, sDPT: The general public doesn't understand that PTs are not just massage therapist, and that PTs take med. school classes, like anatomy. How can we create a more positive image around the role of a Physical Therapist to laypeople?
Dr. Zoher Kapasi: In order to create a more positive image, physical therapist need to market themselves better.
Marquis Cabrera: According to IBIS, there's no major player in the physical therapy field across the country. Why do you think that is?
Dr. Zoher Kapasi: Many years ago, I did some research on the physical therapy marketplace. I found that there were four or five majors players, like US Physical Therapy, Physiotherapy Associates etc, that control 15% of the market, but 85% is controlled by the "mom and pop" clinics and thus, the physical therapy services industry is fragmented. To me, physical therapy has always been about the solo practitioner because the field is very relational, interacting with people.
With healthcare reform, a lot of consolidation is occurring, and economies of scale are beginning to occur, - big industries provide the services and hopefully, you can reduce the cost and get better outcomes- but I am not sure how much of it will occur in physical therapy field because patients want a clinician to relate to. We like to have our own relationships. Some companies, however, are building relationships with scalable business models. Starbucks is a prime example.
If however, PT becomes more capital intensive or forward integration occurs from hospitals to ensure better outcomes for post surgical patients, consolidation may happen quickly. Consolidation is not always bad, let me draw from another industry - airlines: If every pilot started their own airline company, we would still be flying two engine planes. However, by forming big corporations, airline companies have consolidated to afford big jets that allow us to travel in planes that are faster, safer and at a lower cost. In physical therapy though, we don't need that much capital and thus we can easily start our own practice, which is why our field is fragmented.
Lauren Jarmusz, sDPT: Research shows that PTs can act as primary doctors. I know the APTA is advocating for direct access to PTs without a physician's referral. What do you think of the move towards preventative based care versus reactive care in the Physical Therapy space?
Dr. Zoher Kapasi: This is already happening abroad. For example, Aussies are very active and outdoorsy. I have a faculty member from Australia. She told me: "Each person in Australia has their own Physio (Physical Therapists are called Physiotherapist or Physios in Australia, UK, India etc), like we have our own primary care physicians (PCPs) in the US. Australians are super active, so many go for check-ups to look at flexibility and muscle strength at times before they embark on a major sporting activity. We have to show people the value of preventative-based care in the US. Baby boomers are prone for more musculoskeletal injuries, for they are still active, and could benefit from preventative based musculoskeletal health, especially because they are looking for things to help them stay active. "If exercise was a drug, it would be the most prescribed drug in the industry".
As a future Doctor of Physical Therapy, you must capture the value of prevention and find a way to get paid for it though. Many people are paying for a lot of money up front for preventative-based musculoskeletal health care. There's some innovative practices where folks are getting into prevention and getting money out of it, especially since potential clients can now pay directly out of health savings accounts for preventative-based health care.
Marquis Cabrera: Do you think PTs should serve as primary care professionals? If so, why?
Dr. Zoher Kapasi: Yes, they should be primary care providers for musculoskeletal care. If you get low back pain, you should go straight to your physical therapist. As it stands now: If you have lower back pain, you get painkillers from your PCP. If you don't get better, PCP refers you to an orthopedic specialist. Unless surgery is needed, the orthopedic specialist is going to refer you to the physical therapist; then you just wasted time and money, especially on tests, MRIs etc. PTs are trained that if something serious is taking place with a specific patient, we can refer to surgeons or other experts as necessary, but in other cases they can get started with care in a much better way. At the Virginia Mason Medical Center, patients with low back pain can go directly to PTs, and they have seen tremendous cost savings.
Marquis Cabrera: Do you think an annual physical exam for muscles and bones would increase patient education and decrease prevalence of musculoskeletal disorders and diseases, for spend on MSDs has increased 120% in the last 6 years? If so, why?
Dr. Zoher Kapasi: Yes, annually physical exams would help with educating patients. I don't think people prepare for activities and thus may lead to injuries. Proper lifting techniques, core strengthening exercises could all help in prevention of lower back pain.
Lauren Jarmusz, sDPT: What advice would you give to a student PT seeking to do something non-traditional in the physical field?
Dr. Zoher Kapasi: Lauren; I believe in mentorship and looking at people who are doing innovative things in the field. Look for practices that are doing something different, something innovative. Shadow them and go work for them. Mentorship is important to see how the execution of ideas occurs.
Source: http://www.huffingtonpost.com/marquis-cabrera/emory-university-uses-har_b_9206862.html
Scientists Predict which Jobs will still be Open to Humans in 2035
Workers looking for jobs in 2035 might consider retraining as remote-controlled vehicle operators or online chaperones.
Those are two of the jobs of the future suggested in a report by the CSIRO that charts 20-year trends in increasingly digitally focused and automated Australian workplaces.
The employment minister, Michaelia Cash, released the report on Friday at the Australian Computer Society's conference.
Cash said the report showed "some jobs will inevitably become automated over the coming years but technological change will improve others and also create new jobs and opportunities".
"The future won't be about people competing with machines, it will be about people using machines and doing work that is more interesting and fulfilling," she said.
The report identifies six mega-trends in the workforce, the most important of which is an "explosion in device connectivity, data volumes and computing speed, combined with rapid advances in automated systems and artificial intelligence means that robotic devices can perform many tasks more quickly, safely and efficiently than humans".
Increased automation will raise the complexity of workers' tasks. "Many low-skilled jobs are being offshored or automated. The consequence is the likelihood of a raised skills and education bar for entry into many professions and occupations," the report said.
The report found science, technology, engineering and mathematics (Stem) knowledge is used in 75% of the fastest-growing occupations and lamented that "Australian youth demonstrate falling interest and performance in Stem".
Another trend is an anticipated rise in self-employment and freelancing caused by peer-to-peer platforms Upwork, Kaggle, Innoventive and Freelancer.com, which the report claims "provide value through convenience, low barriers to entry and increased speed enabling people to transform their free time into paid work".
The report said while freelancing "has not yet taken hold in Australia, it is a large (and growing) employment model in other countries", such as in America where one in three workers is an independent contractor.
If the ideal job does not exist, the worker may need create it, the report suggested. "Entrepreneurial skills are likely to be increasingly important for small business founders and employees within large organisations," it said.
The report predicted service industries, particularly education and healthcare, would continue to drive job creation, meaning "social interaction skills and emotional intelligence will become increasingly important".
The report said Australia's workforce will be diverse, with one in five Australians over the age of 65 in 2035, high female participation and a large proportion of migrants being of working age.
The report said the employment trends will result in new job types, and speculated these might include "bigger big data analysts", complex decision support analysts, remote-controlled vehicle operators, customer experience experts, personal preventative health helpers and online chaperones.
"The rise of un-crewed vehicles is giving rise to a new workforce of pilots, drivers and ship captains who do their jobs not from the sky, sea or mine site, but from an office in a remote location," the report said.
In a speech to a workforce productivity conference on 8 December, Australian Council of Trade Unions secretary Dave Oliver warned "extreme changes presented by current technological advances are resulting in a deeper, wider and more permanent hollowing out of the jobs market".
He said a recent CEDA report showed 5 million jobs (40% of the Australian workforce) face a high probability of being replaced by computers over the next 10 to 15 years.
"Despite the great many benefits of new technologies, we desperately want to avoid the slide to a labour market platform that forces workers to bid against each other for parcels of work in some kind of brutal, reverse eBay-style auction," Oliver said.
"The challenge for all of us – unions, employers, regulators and governments – is to harness the technological opportunities and make them work for, rather than against, worker's best interests," he said.
Cash said "more than ever, education and training are important for succeeding in the labour market. By 2019, the number of jobs available for highly-skilled labour is projected to be more than double the number available in 1991.
"How Australia's workforce fares in the long term will depend on our ability to help workers make transitions to new and better jobs. Our biggest challenge will be to ensure no one is left behind," she said.
Source: http://www.theguardian.com/australia-news/2016/feb/26/future-of-work-remote-controlled-vehicle-operators-in-demand-in-2035
Verily Is Building A Google For Medical Information
Anyone can use a search engine like Google to locate the nearest seafood restaurant, or the best school in their neighborhood. But medical researchers don't have an easy way to type in questions and receive meaningful answers.
Andy Conrad, who heads up Verily—formerly known as Google Life Sciences—is working with a coalition of academic hospitals, physicians, universities, and patient advocates to bring medical information into one place. He calls it the "Google of human systems biology."
"Unfortunately, most of the information that scientists use isn't easily available," Conrad said on stage at the Future of Genomic Medicine conference in San Diego on Thursday. "That information sits around in difficult-to-crack domains."
Conrad didn't provide many specific details on how the product would work. But he did say that it would involve a library of sorts that leverages machine-learning technology. "It doesn't work as wonderfully as a human," he says. "But it can answer questions."
He confirmed a rumor that Verily's team is working out of a 500,000-square-foot campus in South San Francisco, just a stone's throw from Alphabet's corporate headquarters. The size of the workforce remains unknown, but Conrad said he is adding 1,000 people in the coming months.
MEDICINE IS AN ART AND A SCIENCE
Indexing the world's medical information isn't a particularly new idea. IBM Watson and other tech behemoths are developing artificial intelligence technologies to do just that.
But Conrad, who previously worked at Google's research and development lab Google X, implied that Verily is taking a more human-centered approach. Medicine is as much an art as a science, so Verily is working with patient advocates, mothers, and doctors to determine how to aggregate data that can't be found in scientific journals.
As an example, Conrad said he recently spoke with a high-profile doctor who used loosely veiled code like "TLS" ('they look sick') to describe his patients. These notes might mean a lot to an individual doctor, but they mean very little to anyone else. "How would you capture that in an algorithm?"
LEARNING FROM FAILURE
This isn't Google's first foray into health care. The ill-fated Google Health shut down in 2011 after it failed to gain traction with consumers.
But Conrad said he has learned from previous failures. "In our early forays into health care, we had a bunch of engineers that might not be wonderfully in touch with the rest of the world, especially at Google," he recalled. "But the most interesting thing we did then was to gut an office and turn it into this sequencing lab filled with physicists."
Going forward, Conrad suggested that Verily will explore how to incorporate data from devices, like smartphones, into its database. These tiny devices that we carry around in our pockets contain a wealth of health information beyond step counts. Conrad pointed to the potential of using smartphones to determine if a person is depressed.
"People often ask me about the future of medicine," he said. "We think the most important tool is the computer."
Source: 
http://www.fastcompany.com/3057455/verily-is-building-a-google-for-medical-information
Fundable Start-up Ideas That Matter
Startup Ideas (That Matter)
It can be difficult to find a business idea for a start-up that is fundable but by addressing any of the challenges and areas listed below chances are significantly higher to succeed. Below are a few areas and challenges waiting for start-ups to solve them or improve upon them that are fundable, useful and life changing.
1. Energy – low-cost energy directly increases the quality of life
Cheap energy, from new sources and long-lasting batteries. Generally speaking, anything you can create to make energy from current energy sources cheaper will be revolutionary. Same goes for extracting energy out of new sources. The newer sources of energy are solar, wind, ethanol biofuels, biofuels from other sources, like Jatropha, geothermal, hydrogen, thorium, etc.
2. Artificial intelligence
Programs that imitate human creativity, desire and consciousness. This is just as revolutionary as it is overhyped. For all the talk, there has not been a practical breakthrough. Perhaps, it helps to point out there won't be a single artificial intelligence machine. Rather products that will apply A.I. to create artificial creativity, artificial reasoning, etc. will be useful.
3. Robots
From self-driving cars to space exploration. Robots are already here in manufacturing and military uses. There are few consumer robots yet. As with Garmin GPS, the breakthrough could come by adopting military technology for consumer needs rather than developing robotic hardware and software from scratch.
4. Biotech
Slowing ageing, downloading memories, genetic programming. The ultimate promise of biotech to make us disease free and forever young, seems to be almost within reach now. The Human Genome project is finished. Now it's a matter of figuring out how to tweak the genes. There are moral considerations in this, too. A startup that addresses either side of this story would be revolutionary.
5. Healthcare
Preventative healthcare, sensors, data and medical devices. In the United States health care is far too expensive. And not as effective as it could be. A startup that would make medical insurance less costly, or better yet create a preventative healthcare system is worth funding.
6. Pharmaceuticals
Noortropics, smart drugs that enhance human intelligence. Drugs should be developed faster, and less expensively. Preventative drugs, and drugs that enhance not patch up human health after the fact would be worth funding.
7. Food and Water
Solving upcoming problems with food and water availability. Between 1940s and 1960s Norman Borlaug led the Green Revolution that saved 1 billion people from starvation, especially after World War II. New uses of pesticides, herbicides, and fertilizers as well as new genetically engineered breeds of high yield crops were employed to greatly increase global food production. The new water and food crisis is inevitable as global population is rising. A startup that discovers new food sources, or optimizes the current ones, would save millions of lives. Same goes for water. Desalination of sea water that is commercially feasible will be a breakthrough.
8. Education
Combine mass-scale tech with one-on-one in-person interaction. Connecting students to the right disciplines and the right teachers would make the world population smarter. Although you can't scale good teachers physically, you can scale their reach through the internet, even in one-on-one teaching. Education being the key to when all the things on this list happen, this may be a starting point for those reading this who are not sure what to do.
9. Internet Infrastructure
Better security and free communication. Internet is still vulnerable to governments, natural disasters, hacking, and it's own size. Products that will keep the servers safe, boost security, and invent better ways to store vast amounts of information are worth funding.
10. Government
Replacing bad software, crowdfunding for social services. Government is a very large client. Its software is routinely outdated or just plain bad. It can be done better with the efficiency of a startup.
11. Human Augmentation
Software that makes humans happier and more organized
12. Virtual Reality and Augmented Reality
Virtual and augmented reality that mimics physical presence. It seems like it's here but it's not. VR and AR is still scary enough to not be a daily product most people use. A startup that makes it practical enough to "de-scarify" it is worth funding.
13. Science
Material, nanotech, space technology. Only universities and large companies can afford large-scale scientific research today. They are not always efficient. Why couldn't there be independent research labs? Perhaps, crowd-funded ones?
14. Transportation
Lightweight, short distance personal transportation. No one likes to commute. Yet, the real estate market shows that commuting won't go anywhere for the next while. What we can do is make commuting more convenient. Small personal vehicles running on clean energy would be the key.
15. One Million Jobs
Creation of new jobs for humans that can not be done by computers. Many jobs will inevitably default to robots and computers over the next years. That does not means humans will be out of work. People will fill new professions altogether. But someone needs to educate and train for those professions of the future. Someone needs to build the robots.
16. Programming
What comes after programming languages? Even given how in demand programming is, there is still a high barrier to entry. Not much has changed since 20 years ago. Programmers are still educated in the same way and work with similar technical issues. New programming tool and education can change that.
17. Hollywood 2.0
New ways to discover celebrities online and distribute content. New talent is no longer scouted out by agents. The audience of YouTube can directly select who they like. And those celebrities can directly interact with their fans. A startup can help people discover talent on YouTube.
18. Diversity
Make tech more inclusive to all ages, races and cultures. Some demographics have historically enjoyed less social and financial success. Does it have to be so? The education system and the work environment can be changed to make any ethnicity, race, and gender to perform at their top level.
19. Developing Countries
Vertical integrated businesses in China, India and SE Asia. Many services and products are not available in the developing world simply due to poor logistics, not because of lack of demand. A startup that optimizes international delivering, imports, etc. is worth funding.
20. Enterprise Software
Making expensive software cheap. Software used by large companies has lagged behind the consumer market for a while. It's time to change that. There is not reason you should even have to mail letters or fax receipts to get your refunds from large retailers, for example.
21. Financial Services
Better ways to save and invest money. Unless you are particularly wealthy, financial services that help you grow whatever money you do have are almost non-existent. A startup that finds new ways to invest money for not-so-high-net-worth individuals is worth funding.
22. Telecommunications
Even better than Skype. Other than Skype and Whatsapp, there has not really been a breakthrough in how we talk to each other at a distance. Communicating could be faster and simple with more effective usage of broadband. Also, fewer ads.
23. ...
Are there more areas or global challenges that would be fundable that can be added to this list?
Based on Paul Graham's Y Combinator request for startups from Sept 2014 and illustrated by Anna Vital from Funders and Founders http://fundersandfounders.com/startup-ideas-that-matter/
#startupideas #startup #businessideas
Amazon Prime Air
Prime Air is an interesting concept for a new delivery system that the Amazon R&D Team has been working on.
The goal of this new delivery system is to get packages into customers' hands in 30 minutes or less using unmanned aerial vehicles.
Putting Prime Air into commercial is likely to take some number of years as Amazon advance the technology and wait for the necessary FAA rules and regulations.
An Interesting concept that probably needs a lot of fine turning but that might serve some types of deliveries in certain urban locations, better and faster in the future. Houses in the countryside could for example see their Amazon or other orders be dropped off on to their front lawn by the mini-drone.
According to Mr Bezos's interview on CBS this morning the mini-drones would be able to carry goods up to five pounds (2.25kg) in weight which covers 86% of all the items the company delivers in total.
The octocopters would use GPS tracking to find their way to and from an address
The biggest challenge is considered to be to getting approval from the US Federal Aviation Authority.
For more info see
Strategic Vision Limited
Join us on Twitter @strategicvisio
Vertical gardens - the future of the environment
Vertical gardens could and should play a key role in modern urban planning both for its environmental and cost saving impact.
Environmental Impact
Vertical gardens can improve the air quality of and improve the environment in urban cities, including carbon sequestration, pollution filtration and by creating an habitat for animals and insects.
Cost Saving Impact
In addition to the environmental benefits living walls and green roofs can also have an impact a building's bottom line, saving thousands of pounds in reduced heating and cooling while extending the lifespan of roof membranes and HVAC (heating, ventilation, and air conditioning) equipment over time.
"With technology allowing those behind vertical gardens to grow bigger and better plants in the most awkward of spaces, it appears that the sky really is the limit when it comes to vertical gardens."
Below follows a few examples of how vertical gardens have been implemented in London and Milan 
A vertical garden i Milan
A vertical garden in Piccadilly, London
A vertical garden in North Greenwich, London
Sources:
Strategic Vision Limited
www.strategicvisionlimited.co.uk