Construction, traffic noise, and airplanes flying overhead: Noise pollution the world over lessens quality of life and brings ugliness to what would otherwise be beautiful urban landscapes. To add to this cacophony of sounds are street performers—musicians, actors, artists—all trying to work their trade in the midst of the hustle and bustle of cities the world over.
To fix this problem, one Israeli has come up with an ingenious solution. Called "mini-amphitheatres," they are aesthetically-pleasing, sidewalk-size-appropriate amphitheatres, which can be used not only to block out unpleasant street noises, but also to provide a venue for buskers to perform, increasing the cultural landscape of a city.
Aviv Even, a student at the Shenkar School of Engineering and Design at Tel Aviv University, designed the mini-amphitheatre. As a Tel Aviv native, she has been surrounded by the clamor of sounds which accompany a big city, and wanted to make a positive impact in both reducing noise pollution and improving the quality of life for the city's residents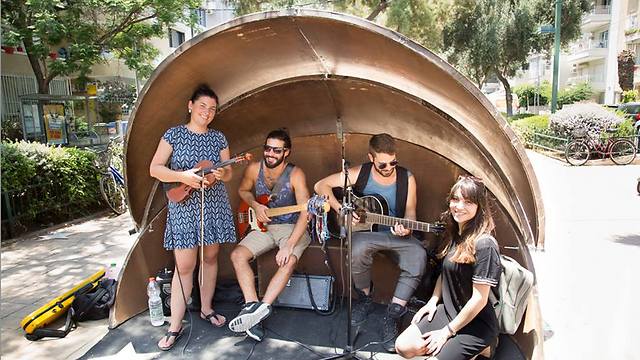 "I sought to determine which sounds were more pleasant for people and which were more grating—what caused people to want to be in an area, and what caused them to want to leave. Something that I discovered is that noise pollution is just as effective at deterring people from being in an area as is physical pollution," she said.
Standing on the corner of Ben Gurion Boulevard and Dizengoff Street in Tel Aviv, she used a decibel reader to determine whence the loudest sounds on the street were coming and what was causing them. She mapped these areas out and used her maps to determine the best way to mitigate these sounds.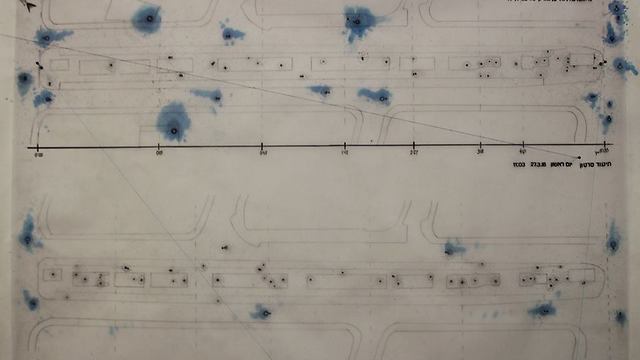 That's how she came up with the idea for the mini-amphitheatre. "I wanted to find a way to reduce noise pollution, while at the same time adding pleasant sounds to the surrounding area."
The mini-amphitheatre is able to direct the sounds of the people who are performing in it—whether they be buskers performing musical instruments or street actors giving a performance—to an audience without disturbing the other people living or walking in the surrounding area.
"Sound naturally goes up, so by performing inside of these mini-amphitheaters, the sound is able to be directed towards an audience more fully. This also eliminates the need for speakers, as the sound is naturally amplified."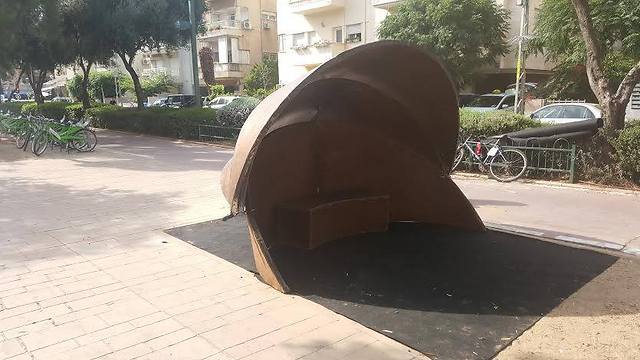 To design the structure, Even spoke to street performers to determine their needs, thereby creating the ideal size and depth of the shell so that it would be not only comfortable for the buskers to perform in, but also disrupt the surrounding foot traffic as little as possible.
Even has already sold one of her portable mini-amphitheatres, but she hopes that in the near future the city of Tel Aviv and other cities around the world will use her design to not only beautify their cities visually, but also provide a way to mitigate noise pollution and increase positive vibrations.
Source: Ynetnews
THE UK ISN'T WINNING any awards this week for its collaboration skills, but the country deserves some credit for "Months," one of five installations in the British Pavilion's "Home Economics" exhibition at this year's Venice Architecture Biennale. Here, if not in the European Union, Britain presents a new model for shared living spaces.
"Months" proposes a monthly rent that includes not only the use of real estate, but all domestic needs—things like cleaning, cooking, laundry, maintenance, and wifi. "We're interested in making communal living easy and affordable,"says Pier Vittorio Aureli, a partner at Dogma, the Brussels architecture firm behind the installation. (The words "A home without housework" appear on the frame of the doorway leading to the installation.) At the center of the room is a private, blue-paneled, two-story "core." It's designed for sleeping, washing, and occasional cooking. The surrounding double-height zones—which make up the majority of the room — become shared spaces for working and socializing. The idea is that residents share services as well as spaces. The installation takes up one of five inter-connected rooms inside the British Pavilion's austere Venetian palazzo.
Aureli says the plan was inspired by the boarding house, a once prevalent model in the U.S. that was replaced after World War II with the rise of suburban living. He adds that boarding houses like New York's Chelsea Hotel once did exactly that, but took on a stigma as being unfit for family living.

Properties modeled after "Months" could rise on unused lots away from city centers, near mass transit. Aureli and his team envision cities using tax incentives to encourage developers to create housing in these zones, rather than using them for commercial purposes.
Like "Months," the other four installations in the "Home Economics" exhibition are named for, and designed around, increments of time. "Hours," for instance, envisions what a shared home environment would look like, if it one lived there for no more than a few hours at a time. It is filled with simple objects whose forms (modular daybeds) and functions (shared wardrobes) are transitory in nature. The "Days" exhibit explores the potential of portability, proposing strange new types of personal spaces—two inflatable, wifi-connected spheres that can you can climb inside and roll around to new environments. It suggests that you really can live anywhere, as long as you can get online. "Years," the least architectural installation of the bunch, is a shell construction that imagines a home built for profiteering, not living; it contains only those things necessary to qualify for a mortgage: a roof, running water, electricity, a lavatory, and a basin—and spartan examples of each, at that.
"We were surprised that that this was the first time housing had been explored through the lens of time," notes Jack Self, one of the three curators of the British Pavilion. "People once worked in one place and lived in one home for their whole lives. When you're talking about a highly mobile, often precariously-employed populace who are constantly on the move, those models no longer work."
The masterminds behind "Decades," London architecture firm Hesselbrand, oversaw construction and design of each installation. "Our goal was to make immersive environments to explain an idea," says Hesselbrand cofounder Magnus Casselbrant, pointing out how space—rather than lots of complex text—can speak for itself.
And while the collaborative spaces all evoke our omnipresent sharing economy in their own way, don't call them derivative of Airbnb. Aureli says he prefers to think of "Months" as an idealistic experiment in communal living, not a get-rich scheme. "Sharing economy is a buzzword that becomes a way to make more money out of everything," he notes. But after the Brexit fallout, Brits might consider all the money-making options they can get.
WIRED HEALTH 2016 22 APRIL 16 by NICOLE KOBIE
Can the NHS Modernise without going Broke?

WIRED Health 2016 will take place on 29 April in London. From helping humans live longer and hacking our performance, to repairing the body and understanding the brain, WIRED Health will hear from the innovators transforming this critical sector.
The NHS has a rotten reputation when it comes to technology. But insiders hope that could be about to change. A newly-launched testbed programme, bringing together patients, clinicians and technology companies, is aiming to tackle some of the health service's most urgent problems. As an ageing population and funding uncertainties further stress its budget, the potential breakthrough couldn't be more timely.
At Davos in January, NHS England CEO Simon Stevens announced seven innovation testbeds that will take a different approach to tackling the impending health crisis. The initiatives will address everything from long-term conditions such as diabetes and heart illness, to mental-health and old-age care.
In many ways the promise is worryingly familiar. In 2013, the parliamentary Public Accounts Committee called the national programme for IT – a project to digitise healthcare records – one of the "worst fiascos ever", reporting the failure would cost more than £10 billion. A library of NHS-approved healthcare apps were revealed to be insecure, and last year the National Audit Office said a data-sharing system for GPs was over-budget, behind schedule and at the time only used by one clinic.
The NHS can't afford to not get technology right: the failures cost billions of pounds, and that doesn't include the missed opportunity cost of using everything from big data to telehealth to improve treatment and keep people healthy out of hospitals. Hence the testbeds.
The testbeds evolved out of a five-year plan for the NHS, unveiled in 2014, that will try and work out how to balance budgets with caring for an increasingly elderly population. Two of the testbeds are focused on internet of things technology, with Surrey and Borders partnership NHS Foundation Trust using smart devices to help people with dementia stay at home longer and West of England's Academic Health Science Network developing a diabetes digital coach.
The other five testbeds aren't as prescriptive: in North East London and in Lancashire and Cumbria, testbeds are looking to support older people with dementia; Heywood, Middleton and Rochdale NHS is working with Google's Verily on prediction and prevention techniques; Sheffield is looking to help people with diabetes, hypertension and other long-term condition treat themselves at home; and the Birmingham and Solihull project is developing tools for managing mental health.
All the projects are designed to help keep people out of expensive hospitals and clinics. A million patients visit the NHS every 36 hours and over the past decade the number of people attending A&E has risen 25 per cent. Alongside that, total hospital admissions have jumped 31 per cent, according to the NHS Confederation. That's only expected to increase as demographics skew older, with the number of people 75 or older up by 89 per cent since the mid 1970s. As long term illnesses affect more people – as of 2013, there were 3.2 million people with diabetes – that's expected to increase to four million within the decade. Budgets, meanwhile, are all but flat, and in 2013-2014 the NHS in ran a £471 million deficit.
Mike Macdonnell is director of strategy at NHS England – which means part of his job is to help "modernise the health system without going broke". It's "partly fair" to criticise the NHS's track record with technology, he says. "Certainly it's not gone as well as we liked, and there have been some very well-publicised problems in the past." But the testbeds will "try to do something different."
How so? Macdonnell points to the idea of "combinatorial innovation" – a phrase he apologises for. "Increasingly, the nature of innovation is – to use a funny word – combinatorial." Patents with a single name are on the decline, while "combination" patents that combine multiple organisations and ideas are on the rise. "This programme seeks to recognise that – putting together different technologies, entrepreneurs and innovators and then, importantly, pairing them in the real-world with NHS services."
For example, in Rochdale, pharmaceutical firm MSD is working with Verily (formerly Google Life Sciences) to figure out how to use predictive techniques to avoid people developing long-term conditions. And to do that, rather than simply put out a call for bids, Rochdale has the two companies getting the advice of patients and clinicians and one another. MSD's director of healthcare services Junaid Bajwa admits the company doesn't have the data science skills necessary for its project in Rochdale, so it's teaming up with Verily. "What if you could reimagine healthcare either from the eyes of a startup or reimagine healthcare from non-traditional systems, such as a pharma?" he asks. "Who would you choose to work with?"
Steven Haigh, programme director for the Sheffield testbed, explains that rather than developing a product and taking it to market, or trialling an existing technology, the idea is to identify a problem that needs solving, and ask technology companies to work together to help come up with an answer. "We're not just going to lob a lot of toys and goodies into the system and say: 'Let's make the best of it', we're going to do it completely the other way around," says Haigh. "We want innovators [to] start talking to practitioners to say: 'What are your biggest challenges and where are the biggest opportunities that technology could actually help' – both [in terms of] helping keep patients independent and helping the services coordinate to learn in more effective ways." In other words, the NHS – and that means the doctors, nurses and patients that make it up – will tell technology companies what they need, not the other way around.
Read more: http://www.wired.co.uk/news/archive/2016-04/22/nhs-technology-innovation-testbeds
Lego Wheelchair Toys Message Disabilities
Sometimes the smallest of things have the capacity to make the biggest of impacts. Last week Lego unveiled its first ever wheelchair-using mini-figure at Nuremberg toy fair, an inch-tall plastic boy sporting a beanie and hoodie who forms part of a Fun in the Park set going on sale in June this year. For a small guy he's been making big waves, inspiring global press coverage and online jubilation from Lego fans, parents and disability groups.
"But he's just a little guy," I hear you say, "a plastic dude out for a wheel in the park with his dog and a bunch of other mini-figures. What's the big deal?"
The message behind Lego's wheelie boy is so much larger than his teeny-tiny stature. His birth in the toy box marks a seismic shift within children's industries. There are 150 million children with disabilities worldwide, yet until now they have scarcely ever seen themselves positively reflected in the media and toys they consume.
In her recently published book Disability and Popular Culture, Australian academic Katie Ellis writes: "Toys mirror the values of the society that produce them …" If Lego is mirroring, it's reflecting a better world. Intentionally or not, it has sent out a powerful message of inclusion.
Lego seems to have been unprepared for the excitement its wheelchair-using boy would cause. When he rolled on to the stands of Nuremberg Toy Fair, Lego wasn't treating him as anything special – he was just nestled among the crowd. The company hadn't prepared any photos for journalists and, when approached by the Press Association, could only say that he would reach the shops in June. Yet the figure's very existence was noteworthy, so unusual that he grabbed the headlines during a week of international toy fairs. (Alongside big-bottomed, flat-footed "normal woman" Barbie – but that's a whole other story.)
The delighted response only highlights the size of the void that Lego's wheelchair boy comes to fill. This beast is ravenous because we've never really fed it before.
The toys, TV, films, games, apps and books that entertain and educate our children barely feature children with any kind of impairment or difference. Their lives are not reflected. They're invisible. How do you grow a positive self-esteem when the culture around you appears to place no value on your existence? It does not celebrate you. On the rare occasions when you are depicted, it's frequently as a disability stereotype – in a medical setting (toy hospital set), as an evil baddie (Captain Hook) or associated with charity (BBC's Children in Need). Your hopes, dreams, imaginations and experiences are ignored. You are culturally marginalised. Washed away by the mainstream. As the academic and bio-ethicist Tom Shakespeare – himself a wheelchair user – said, there's a danger that disabled children will feel "like permanent outsiders in the world".
When did you last see disability represented positively in a children's film, cartoon, or computer game? Have you ever seen a set of emojis that reflect the disabled experience in a celebratory way? Alexandra Strick of Inclusive Minds, a group calling for greater representation of disabled children in publishing, says, "The disturbingly low number of books featuring disabled characters is a perpetual concern. I'm frequently asked for lists of books which feature disabled characters. It's extremely challenging to find more than a handful."
Everyone knows there's something wrong with how we represent disabled people, but it seems no one knows quite how to fix it. We dance delicately around disability, scared to offend or get it wrong, so we don't do it. This exclusion is causing damage to millions of children, yet the answer is quite simple. Just include it in an incidental, celebratory way. Move on from the baseline negative, which treats disability as somehow lesser, in need of fixing or overcoming, and see it for what it is – benign human variation, part of the spectrum of human life. Let's hope that one day positive representations of disability are included so seamlessly across children's industries that they cease to be noteworthy at all.
Source: http://www.theguardian.com/commentisfree/2016/feb/01/lego-wheelchair-toys-message-disabilities
Vertical gardens - the future of the environment
Vertical gardens could and should play a key role in modern urban planning both for its environmental and cost saving impact.
Environmental Impact
Vertical gardens can improve the air quality of and improve the environment in urban cities, including carbon sequestration, pollution filtration and by creating an habitat for animals and insects.
Cost Saving Impact
In addition to the environmental benefits living walls and green roofs can also have an impact a building's bottom line, saving thousands of pounds in reduced heating and cooling while extending the lifespan of roof membranes and HVAC (heating, ventilation, and air conditioning) equipment over time.
"With technology allowing those behind vertical gardens to grow bigger and better plants in the most awkward of spaces, it appears that the sky really is the limit when it comes to vertical gardens."
Below follows a few examples of how vertical gardens have been implemented in London and Milan 
A vertical garden i Milan
A vertical garden in Piccadilly, London
A vertical garden in North Greenwich, London
Sources:
Strategic Vision Limited
www.strategicvisionlimited.co.uk